Anna e Alfredo bed and breakfast
The bed and breakfast "Anna and Alfredo" has risen from our wish to share tastes, colors and flavors and whatever our beautiful land can share. "Anna and Alfredo" aims at engaging you in a memorable experience that makes you feel home, cozy and comfortable.
The bed and breakfast is situated in the center of Zafferana Etna, a quiet town at the foot of the volcano Etna, in a strategic venue between the mountains and the seaside. The building is few Km far from the city of Catania, Taormina, the ski slopes, the cable car and several other facilities connected with the local tourism.
The bed and breakfast offers 3 rooms and a vacation rental apartment, which are all surrounded by a gorgeous garden with a gazebo and a terrace to sit back and relax.
All the rooms are equipped with either a balcony or a terrace, free wi-fi and flat screen TV.
The rooms, the suite and the apartment
Choose the solution that's right for you!
Current events...
Here are the upcoming events next to our structure.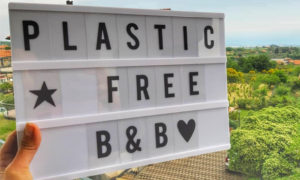 In the B&B Anna e Alfredo
We don't use any single use plastic!
We serve breakfast just on ceramics and glass!